Our family stable Láryšov is located 10 minutes by car from Krnov and approx. 30 minutes from Bruntál and Opava.
We are only a short distance from the city, but at the same time in the beautiful nature of the surrounding forests and meadows.
Who would like to come to us to relax and at the same time spend beautiful moments with our horses, this is the place for you.
We offer horse-riding lessons mainly for those who want to engage in recreational horse-riding and, after acquiring the basic skills, long for a ride with a view of the city of Krnov and its surroundings.
We currently have 10 horses in our stable.
Training or horseback riding in nature can be ordered by prior arrangement by email or by phone.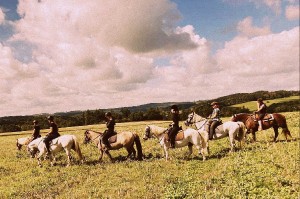 Příspěvky
Sale of substrate from horse manure, vermicompost, California earthworms
For more information or interest in vouchers, do not hesitate to contact us on tel: +420 773 673 407.
Photo album
Pictures